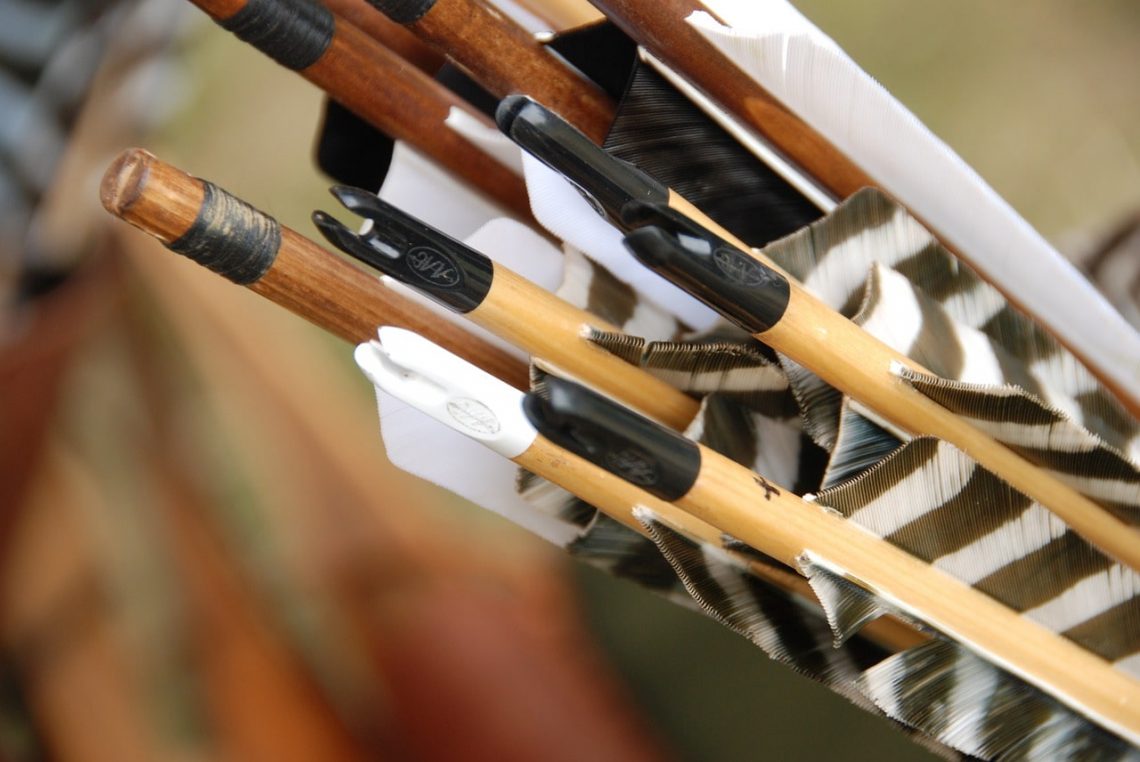 Best Crossbow Targets: The Top Choices to Brush Up Your Skills
Many people, especially newcomers, think it doesn't make much of a difference in shooting. But that is not true. Getting one of the best crossbow targets also means you have the right practicing environment to make great strides in your skills.
Read on to learn more about our recommended products and how to choose the right target for you.
Our Choices of The Best Crossbow Targets:
Field Logic Black Hole 4-Sided Archery Target – The Top Pick
The Field Logic Black Hole is one of the most popular archery targets on the market. In fact, it's holding the #1 best-selling position in this category on Amazon.
So why is it so well received in the shooting community?
The most important reasons are probably its durability and usability. Made right in the USA, all Field Logic archery targets need to meet high standards of their quality.
The wrapped sides are made from polypropylene with an open-layer design. They use friction instead of pure force to stop arrows, resulting in less shooting fatigue and ease of arrow removal.
There are two sizes for you to pick – 18 inches and 22 inches, both of which are lightweight and portable with carrying handles.
It's also not a random choice that Field Logic uses such high-contrast colors and features on the faces since they work wonders for the general visibility. You will have an easier time aiming it at long distance.
But again, this is still not an all-in-one solution. If you want to practice your heavyweight compound crossbow skills, you'll be better off with other options.
Pros
Great visibility with high-contrast colors
Durable (made in the USA)
Portable
Convenient carrying handles
Cons
Not for heavyweight compound crossbows
Morrell Double Duty 450 FPS Archery Bag Target – The Alternative Option
This is a great bag target for stopping arrows at over 400 FPS.
Our favorite thing about the Morrell Double Duty is its lightweight and small size. It weighs just 33 pounds with the dimensions of 19x19x19 inches, which allows you to move it with ease. There are also two handles on the edges so you can carry it with your hands or even hang it on any tree easily.
On top of that, there are many other features intended to provide you an enjoyable shooting experience.
Morrell tries to simulate the real environment as much as possible by painting deer's vitals, dartboard, and bull's-eye on four faces of the Double Duty 450 FPS. This bag is also covered by bright colors – a simple way to increase its visibility, even at long distances.
We also believe that you will be impressed with how easy it is to remove the arrow from this bag. The materials are fairly tough to withstand the incoming arrows but don't hold them too firm to cause any troubles.
However, some shooters have to find the target spots too tiny to their likings. And you only can use field point arrows with this bag target.
Pros
Two handles for portability
Easy to remove arrows
Can stand firm against fast-flying arrows
Durable
Replaceable covers
Cons
Small target spots
For field point arrows only
Field Logic Block GenZ Youth Archery Arrow Target – For Youth Shooter
Just like the Black Hole series, this Block GenZ features high-contrast colors.
The only difference is this time around, it's black-and-white instead of black-and-yellow. With those white aiming points, you will have better visibility in both short and long distances.
What's new in this product is its open-layer design, which uses friction to stop arrows. As a result, you can remove the arrows easier, providing more time to practice.
However, don't expect this portable target to withstand bows above 50 pounds.
Pros
A great choice for beginners and youth shooters
Open-layer design, use friction to stop the arrows
High-contrast colors
Lightweight and portable
Cons
Can't withstand over-50-pounds crossbows
Hurricane Bag Archery Target – The Best Value Choice
This target is one of the greatest models for competitive archers and hunters thanks to its size and toughness.
We're sure its design will catch your eyes from the first sight as there are multiple eye-shaped aiming points on one side. With those orange spots, you can have the best visibility while aiming over a long distance, no matter if you put it on the ground or hang this target on a tree.
And guess what's on the other side? Deer vitals.
When you need time to practice your hunting skills, just flip it around. And thanks to the separated aiming points, it can handle numerous shots before showing any signs of wear and tear.
This series is available in three sizes: 28, 25, and 20 inches. You can get the version that fits your practice space and hunting skills the most. They are all fairly affordable, considering all the awesome features above.
But we don't recommend using broadheads with the Hurricane since they can cause damage to the bag.
Pros
Affordable
Have deer vitals on one side
Multiple size options
Cons
Unsuitable for crossbows
Not the most durable target
Field Logic Block Classic Archery Target – The 2-Sided Pick
This is another top-notch archery target from Field Logic.
It also uses the distinguishing coloring with black and white to provide highly-visible aiming points, even at long distances. However, unlike the Black Hole and Block GenZ above, the Block Classic has only two sides for practice.
The Block Classic also features the patented open-layer design from Field Logic, meaning it's just as easy to remove arrows from it like other products of this brand.
But remember, since Field Logic has fitted the edges with plywood in order to make it more stable on the ground, don't shoot at those lines.
And although it's claimed that the Block Classic can handle broadheads, doing so is not recommended. At least you should just use them occasionally to make it more long-lasting.
Pros
High-contrast coloring
Multiple size options
Open-layer design from Field Logic
Easy to remove arrows
Cons
Two sides only
Unsuitable for broadheads
Shooter Buck 3D Deer Archery Target – For Life-like Shooting
We can't say an archery target list is complete if it doesn't have a 3D model. And here is it, the Shooter Buck 3D is our choice.
Compared to other life-like targets, it's not that heavyweight at all. This 3D buck weighs only 12.4 pounds – enough to maintain stability but still easy to bring to the practicing field.
The best part about the Shooter Buck 3D is its core insert is replaceable.
You can order a replacement part of this high-density insert right from Amazon when you need a new one. The manufacturer has also used the Poly Fusion design to make this core, allowing it to stop broadheads and field tip arrows.
Made in the USA, the Shooter Buck 3D can stand firm against most weather conditions in a practicing field, even on a rainy day. That is what sets it apart from the bag targets we have mentioned so far.
But as a 3D target, this buck is a no-go for inexperience and youth shooters. And you will need more effort to transport and handle it.
Pros
Durable components
Replaceable insert
Weather-resistant
Great stability
Cons
How To Choose A Crossbow Target For You
In order to get the right target to practice your crossbow skills, put a lot of thought into these factors:
Type of Archery
This should be the first question you ask yourself before buying an archery target.
Knowing which kind of archery you plan to do will narrow down a lot of options. If you want it for target shooting, then bag or block targets are your best bet since they can stop arrows better than other types of targets.
But if hunting is your favorite leisure activity, then get a 3D target.
Like the Shooter Buck 3D above, a life-like target will provide the most realistic experience to pick up your hunting skills. They come in familiar shapes like giraffe, antelope, mule, sheep, and dogs.
Design
Don't forget the material that is used to make the target since it's what is going to stop your arrows. Without a well-designed target, you may risk damaging the arrows.
Size
Each model often offers multiple size options. Smaller targets are easy to store and carry but will make it harder to aim. On top of that, since they have smaller aiming area, the number of shots they can handle is also lower.
Beginners should get the biggest target when possible, to make the aiming easier.
Easy of Arrow Removal
No one wants to spend much of practicing time just removing the arrows from a target. When every feature is the same, always get the target that requires less time and effort to make the arrows ready again.
Visibility
Competitive and real hunting don't always have the most optimal conditions to help you get the most accurate shots. But in a practicing environment, it is usually better to have a target with great visibility.
Always go for high-contrast, outstanding colors. This is extremely helpful in aiming, especially for beginners.
FAQs
What is the lifespan of an archery target?
That depends a lot on the design and materials of the target. Some can withstand hundreds or more shots. And unless it's a weather-resistant model, a target that doesn't get exposed much to the elements usually lasts longer.
What is inside a target?
A typical bag target contains mostly synthetic fiber in order to stop your arrows while letting you easily remove them.
Can I make a DIY target instead?
While possible, we don't think it's a good idea. You can always make a target from foam, hay, or your clothing, but it won't last long and may even damage your arrows.
Can I legally put a target in my backyard?
In some locations, yes. But the rest? No.
To be sure, always consult local ordinances and regulations first. Contact a law-enforcement office or pay a visit to your town hall to know whether it's allowed.
Conclusion
Shooting with crossbows has always been a fun and exciting hobby.
To have a whale of a time with it, you should follow our advice above to get a durable, highly-visible, and easy-to-remove target. It will ensure an enjoyable practicing environment for you. And always remember, safety first!