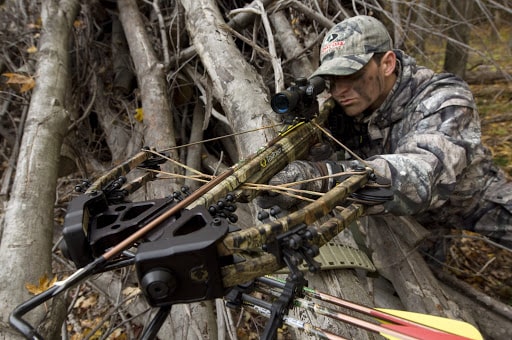 Crossbow Scope Reviews: How To Buy The Best One For Your Hunting
What do you need when hunting with a crossbow? Do you want clear vision, reduce glare, increase night vision, and help reduce eye pain?
If the answer is yes, you need the best crossbow scopes right now. You can search for an excellent product by reading our post. Let's start with understanding these types of scope.
Different Types of Crossbow Scopes
Red Dot
It is easy to use this type of crossbow scope. Although it doesn't provide you the magnification, there are many red dots to line up with your goal. Not only that, the illuminated reticle also helps you to target easily, even the open sights.
As a result, this type is ideal for beginners and practice for several shooting distances. Besides, you can use this scope more accurately in low light conditions because there's no obstruction for the field of view. Finally, shooters can center and shoot faster with the support of a red dot.
Night Vision
As the name of this scope, you have great vision at night when hunting crossbow. You can choose from IR, illuminated, or infrared features.
These scopes emit infrared light. Although it is invisible to the eyes of humans and animals, it can help users to see their target clearly in the dark.
Keep in mind that night hunting is often banned in many places, so be sure to check the rules before doing crossbow hunting. This product will be useful for hunting at night and contribute to your victory in the games.
Magnified Scope
Different from a red dot, this scope gives you the magnification to aim accurately at the target. If you often use a hunting rifle, you will be familiar with this type of scope.
It works in a similar design when the reticle helps you to follow the bolt arc based on the measuring distance. You can also have multiple lines to show trajectories at many distances.
As such, it is easier for you to shoot at long distances when you can pinpoint exactly where you want to enhance the performance of shooting range.
The Best Crossbow Scope Reviews
Hawke XB 3×32 Crossbow Scope
Topping our list is one of the best Hawke crossbow scopes. What can you expect from the Hawke 12211?
The 3x magnification is ideal for crossbow deer hunting. It also has easy-to-use reticle and optics for high precision.
Moreover, you have 11 multi-phase optical layers for outstanding clarity. It comes with an illuminated reticle that is suitable for bow speeds of 340 FPS. The reticle is designed with 20 yards 'zero' with a goal of 10 yards to 70 yards.
The positive click of the MOA Turret protected from elements with a closed turret cover help to increase speed and accuracy.
And the best part?
There's a solid 1-inch monotube chassis to resist the recoil of heavy crossbows. In low-light environments, this scope can collect the best light for you.
You should make sure to get the correct mount rings for your crossbow.
Overall, if you want an accurate and reliable crossbow scope, buy this model now!
Pros:
Super clear
Sturdy construction
Sharp focus
Easy to sight in
Cons:
NIKW9 Prostaff P3 Crossbow 3×32 Matte BDC 60
Coming next is the Nikon Prostaff P3. The outstanding feature of this scope is the complete multi-layer optical system.
It can transmit great light to look at bright and clear images quickly. Therefore, you aim more accurately.
Nikon designs the BDC 60 reticle for a variety of crossbows, weights, and point velocities. The 20 yard 'zero' of this reticle provides the corresponding sight circles for shots of up to 60 yards and even exceeds 80 yards depending on length, weight, point weight, and velocity.
You can also easily adjust the reticle with the click-stop of 1-MOA. It means that you can change the windage and elevation turrets fast for high performance.
Lastly, the aluminum caps of turret and aluminum aircraft scope body contribute to the product's durability and lightweight.
Note that the circles are quite hard to see.
Beyond that, this scope is very usable in early morning and dusk conditions. Try it for your next hunting season!
Pros:
Crystal clear
Simple to sight in
Excellent visibility
Good quality
Cons:
Quite pricey
Barnett Cross Scope w/Rings 4X32mm Multi-Ret 17060
Now let's explore our third best model from the leading brand of crossbow manufacture.
The Barnett 17060 offers a 4x magnification for distant targets and clearer images. It also has a lifetime warranty from the company. What an excellent guarantee for customers!
Not only that, you can use this model in different weather conditions because of its excellent water and shock resistance.
Here's something interesting for you.
A five-point programmed, multi-reticle crosshair system helps you to acquire the targets rapidly at several distances. Besides, this model is compatible with all full-sized crossbows in the company's product line thanks to 0.875-inch dovetail mounting rings.
You can use this scope in low light conditions even though it has no illumination.
However, the manual for this scope is poor.
Overall, it is one of the best crossbow scopes under $100. Not only that, it works great for early and late evening hunts.
Pros:
Easy to use
Well-made and very clear
Accurate and sharp
Cons:
Rings may not fit well.
UTG 4X32 1″ Crossbow Scope, Pro 5-Step RGB Reticle, QD Rings
Another famous brand is waiting for you. Here is its best model for the crossbow, the UTG SCP-M4CR5WQ 4×32.
How good is it?
The reliable 4x magnification provides excellent clarity for longer range shots, so it is ideal for archers who want to shoot smaller targets at 50-60 yards.
Moreover, the Broadband Lens Coating offers the brightest images, high precision, and a wide field of view while the body can minimize glare in daytime shooting situations.
UTG designs this model with Smart Spherical Structure to enhance durability and achieve accurate elevation and windage adjustment. High-end target turret is lockable and resettable simply and fast.
Not only that, you also have the most robust anti-shock ability to support your archery performance.
Although the reticle is illuminated to use in low lights, the five-line ranges cover the eyepiece diameter, so the reticle can interfere with what you look at.
Despite this, it is a great little scope for the money. If you have a tight budget, do not hesitate to bring it home.
Pros:
Simple to adjust
Great sight picture
Good build and low price
Cons:
A bit hard to zero in
MA3TY 1.5-5×32 Crossbow Scope
Next, we bring you a variety of product brands with models from MA3TY.
The MA3TY 1.5-5×32 scope features various magnifications from 1.5x to 5x. Therefore, it has more magnification than other models on our top list.
Now you can zoom the images in and out very quickly. Additionally, you can change the speed from 300 to 425 FPS very flexibly.
For more clarity, the multi-layered lens helps deliver up to 93% of light so you can target moving prey smoothly. At the same time, the lens with a wide-angle and the ballistic reticle with red and green light can shoot targets accurately.
Last but not least, water-resistance of nearly 20 feet, impact resistance to 1,000G, and anti-fog increase the scope durability.
You should pay attention to the FPS adjustment. Although it is beneficial, it can be a little confusing for some users.
If you are looking for a trustworthy, reliable crossbow scope, we highly recommend this scope.
Pros:
Practical and accurate
Well-built and durable
Easy to sight in
Clear glass
Cons:
The adjustment for arrow speed and magnification are locked together.
TRUGLO Crossbow 4X32 Compact Scope w/Rings
You now reach our last suggestion. The TRUGLO is known for its low budget scopes for the crossbow in the industry.
With the TRUGLO TG8504B3L, you own perfect 4x magnification for standard crossbow scopes. It is suitable for hunting with arrows.
To contribute to product durability, the manufacturer makes durable, scratch-resistant, and non-reflective finish. Also, there are Weaver-style rings and 4" eye relief for easy mounting and comfortable use.
Another great feature is the fully-coated lens. It can give you high clarity, brightness, and contrast. Along with that, you have dual-color illuminated reticle to use in low light conditions.
The Nitrogen gas-filled construction provides the ability of fog-proof and waterproof. It's so easy for you to change windage and elevator with durable leaf spring and fingertip adjustments.
However, it does not have an auto range finder. You need to range objects beforehand and select the correct sight picture.
Other than that, this model is great for low light early morning and late evening shots. Do you want to buy it now?
Pros:
Very easy to sight in
Precise and clear
Excellent quality
Sharp image
Cons:
Buying Guide Of The Best Crossbow Scopes
Because crossbow hunting has a shorter range than rifle shooting, you need to choose the right scope to use for this purpose.
Scope Magnification
The scopes usually have this parameter in the product description. With 3×32 scope, you can see the image almost three times more than when you see it with the naked eye. You need high magnification for shooting precision on small targets.
Objective Lens
If the scope is 3×32, you have a 32mm diameter of the objective lens. A wide lens can bring more light to your eyes for clear images and excellent low light performance.
Durability
The best crossbow scopes are often waterproof, dustproof, and fog proof. So you can use them in bad weather conditions without losing sight. The tip for archers in a humid climate is to select an anti-fog coating for a scope.
Eye Relief
You should choose good eye relief to have more space between the eye and the lens to prevent your eyes from hitting when you shoot arrows from a crossbow.
Scope Reticle
The reticle determines the trajectory of the arrow. You will have range markers that show the arrow trajectory at different distances such as 20 yards, 30 yards. This feature is useful for archers who need to shoot targets at a short or fixed range.
Illuminated Scope
When you want to shoot in low-light conditions, remember to select a lighted scope. It can bring light across the device to illuminate your target image.
Frequently Asked Questions
What Is The Largest Range Of A Crossbow Scope?
First, you need to know the largest range of a crossbow scope is the maximum distance that it can maintain efficiency. Generally, you have a range of 40 yards and about 50 yards for professional archers.
Can I Use A Rifle Scope For Crossbow Shooting?
Yes, you can. You can find the instructions online to know how to use them effectively.
How Can I Sight In A Crossbow?
You need to set up the scope properly for good sighting.
First, you find the leveling platform at the shooting place to achieve the desired results. You can also use a tripod to increase stability.
Make sure you see a clear image with scope. You should not let your eyes touch the scope because the scope can recoil and hit your face.
Next, you align the crosshairs properly by adjusting the reticle to get the right elevation and windage. So, this action can guide your arrow flying towards the target accurately.
You then set up MOA to sight the scope over long distances. Finally, you should shoot the set goals and where your targets will be aimed at real hunting. You need to know what is good and bad for you to improve when needed.
Are Our Best Crossbow Scope Reviews Helpful For You?
If you've read this conclusion, we believe you have an excellent choice for yourself. Our six best crossbow scopes on the market will be the perfect reference for your needs.
When you have specific requirements for the budget, scope types, and other useful features, you will get answers from our list right away. Let's buy and carry these scopes for your beautiful hunting moments with family and friends.